UX and UI Design, prototyping; Research, Comp Analysis, User Testing; Partner on implementation delivery with cross-functional team (Development, Product Management, Project Management, Content & Documentation, Stakeholders).
Context
What is a Static Website and why do users want to host it on IBM Cloud Object Storage (COS)?
• Pre-built files that make up Webpages, which are delivered to the end user exactly as it is stored
• Loaded the same way every time, therefore loading times are very fast
• Static sites are easier to crawl, ranking higher in search engines, increasing SEO
• Popular examples: Blogs, Documentation, Newsletters, Portfolios
Why IBM Cloud Object Storage?
• Serverless, high availability
• Allows the user to focus on fixed-content delivery to their customers
• COS is an unstructured data storage service designed for durability, resiliency and security
When migrating and managing my data in COS,
I need a place to store and manage my static website,
so it can still be accessed by customers at the current URL.
Using Amazon Web Services (AWS), Google Cloud Platform (GCP), and Microsoft Azure I understood how the feature and documentation works. I was able to craft a story about how we might be able to competitively differentiate in IBM COS.
After sketching and critiquing with the team, basic requirements and flow are laid out using the Carbon Design System. Users can create a bucket, host a publicly available site, create routing rules, and manage all aspects of the site. I used this to work with Content and Documentation writers, as well as Development and Product Management.
Myself and Ora Peled Nakash, UX Researcher, ran 2 tests on the 2 ways to create a SWH bucket with 2 main goals:
1. We wanted to ensure templates meet basic user requirements and are usable
2. See if users could find the primary endpoint to test their bucket's website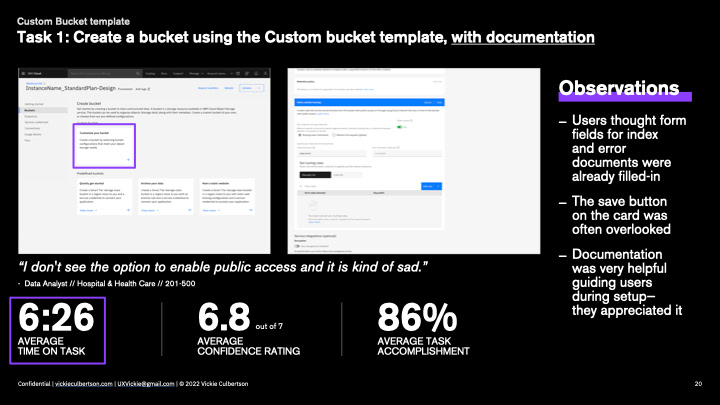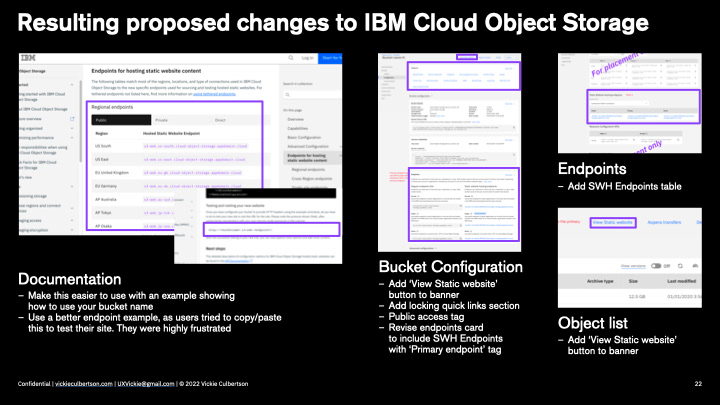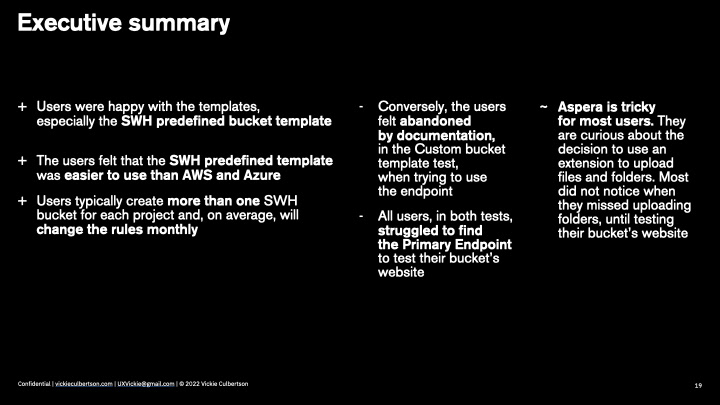 After implementing feedback, users are able to create a Static Website Hosting Bucket from a pre-defined template or using the Custom Bucket template. Users can modify settings from their Bucket's Configuration page. They can view information about their bucket in the Bucket details panel.
1. User testing from Staging environments can be very difficult and time consuming.
2. Challenge existing Style Guide components. Use research from your tests to affect change in the guide.
3. Always test tutorials and documentation, if you can.
I worked with the Documentation writer to submit an idea to the product Roadmap. Based on the Research, we suggested a backend update to the API to allow for folder and large file uploads through the UI. Historically, users had to install a plugin  to upload these folders and larger files. In 2022, the ability to upload folders and large files through the UI in the updated data transfer pattern was introduced to the UI to the credit of myself, Ora Peled Nakash, Nicholas Lange, Yogi Vijay, Tiffany Huang, and Samuel Griffiths.